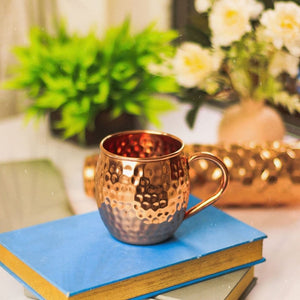 PRODUCT FEATURES:
Products: Copper mug
Material: Copper (98%)
Packaging: Recyclable bag
BENEFITS:
Eco friendly and recyclable
Portable and convenient
Durable
Reusable
Plastic free 
Improved immune system
Improved Digestion
Makes the water bacteria free
Usage: As a mug that can be used for coffee, tea or water
#Ecofact:Copper is a 100% recyclable material, having good thermal and electricity conducting properties. Due to its electricity conducting property, wires consist of copper wires internally. Due to its thermal property, copper keeps hot things hot.